Expanding Recreation for San Francisco Kids: City Fields Foundation
Expanding Recreation for San Francisco Kids: City Fields Foundation
Invest in a Livable San Francisco
In 2005, the numbers of kids in San Francisco who wanted to play far exceeded the capacity of safe and available public playing fields. San Francisco's fields were in considerable disrepair, with inadequate lighting, poor grass coverage, and unsafe gopher holes, or often closed due to darkness, rain, or turf re-growth. That year, Bob, Bill, and John Fisher, the sons of GAP retail store founders Doris and Donald Fisher, began to consider how their philanthropy might create a more livable San Francisco for families. They knew that Hirsch Philanthropy Partners could help them understand where to focus resources and then move from vision to reality thanks to our regional network and experience designing new initiatives.
Hirsch was an early and enthusiastic leader of creating public-private partnerships, which have become a proven and effective model. We knew from projects in our earliest days that bringing together the expertise, resources and political capital of different sectors substantially increases the possibilities for lasting change. When diverse voices are included at the outset, it leads to greater buy-in and more powerful outcomes. We were convinced that forming a close partnership with the City of San Francisco would result in broad and lasting improvements.
"When you want a good city, perhaps you've got a good government. If you want a great city, you've got to have public-private partnerships. This is one of those great examples where we all came together to do this." — Late San Francisco Mayor Ed Lee

Beach Chalet Athletic Fields in San Francisco, CA renovation funded by City Fields Foundation
Revitalize Playing Fields
In partnership with the Fishers, the Hirsch team led the process of discovery, speaking with community and youth leaders, planning convenings, and analyzing data. We uncovered the significant need for robust playing fields and the opportunity for citywide transformation of outdoor public fields. Revitalized fields improve well-being by ensuring that children have safe places for year-round physical activity, and serve as informal community centers where parents and neighbors exchange information and form friendships. Both of these factors improve livability in an increasingly expensive and hard to navigate city that can be a challenging place to raise a family. 
The San Francisco Recreation and Parks Department was an enthusiastic partner given its oversight of city fields and mission to provide enriching activities in beautiful environments that enhance well-being. Together we created the Playfields Initiative to increase access to high-quality recreation spaces across the city. Hirsch launched the City Fields Foundation with the Fishers and we directed the multimillion-dollar public-private partnership over many years. After initial seed funding from the Fishers, more than 120 others made contributions to City Fields while the City earmarked additional funding, for a total of $52M. Ultimately, the project restored and expanded access to 21 fields in nine facilities across San Francisco.
"I got involved in the Fields Campaign when the Fishers said they had an audacious idea to give the city a lot of money but in return we had to commit to revitalizing a part of the city that frankly was neglected. And that was our fields in some of the most diverse and underutilized parts of San Francisco." — Governor Gavin Newsom, then-Mayor of San Francisco
Build Community Health
We're proud of the impact of the Playfields Initiative on San Francisco. Since its launch, more than 200 new sports teams have formed, including 85 teams for girls. Field improvements created space for more than 90,000 additional hours of field time annually. And the fields and facilities helped connect youth and families with access to recreation in neighborhoods across San Francisco.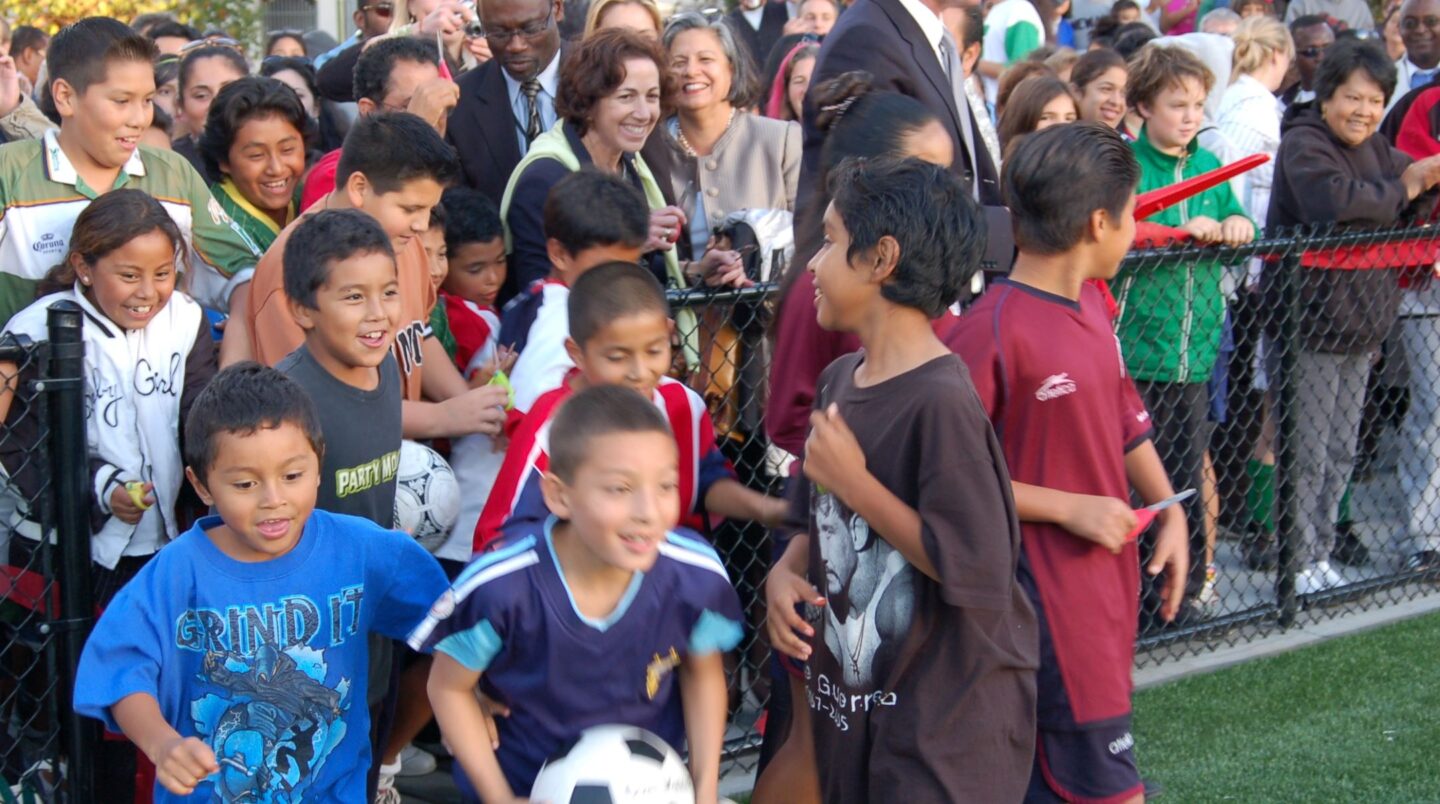 Garfield Square Soccer Field in San Francisco, CA, renovation funded by City Fields Foundation
"The three of us had grown up in San Francisco and raised our kids here, and it was important to us to be able to give something back to the city we love. The city had obviously changed over the years and we realized there was a significant need for fields that could be played on by kids and adults. The things we've enjoyed the most through the ten years of City Fields have been first, the tremendous experience of working with Susan Hirsch and her team. We certainly could not have done it without them. And the second thing is seeing the fields transformed. It's really satisfying after all the work is done to see how much joy kids get by playing." — Bill, Bob and John Fisher
The Playfields Initiative continues to create impact in ways we believe are most effective practices for ongoing philanthropic involvement. While new fields and facilities were an important first step, the goal must be to keep them beautiful and usable so that families have ongoing access to recreation. To that end, the Initiative renovates the fields when they reach the end of their life cycle over the ensuing decade. The project has realized the Fisher brother's vision of a more livable San Francisco for children and families.
In Focus
Then San Francisco Youth Soccer President Po Bronson was frustrated that his League's teams did not have enough places to play, with many of the fields heavily used dust bowls with poor drainage and little green space. He saw a huge opportunity for change when City Fields Foundation and SF Rec and Park partnered to build new fields and make significant infrastructure improvements. "It's a daring belief to say that just by making a nice field, it will change a city. It's like a Field of Dreams type of understanding. It took real vision to say, a field can help. We're going to say thank you by being out here with smiles on our faces."
Header photo at top: Beach Chalet Athletic Fields in San Francisco, CA renovation funded by City Fields Foundation