Unveiling Hirsch Philanthropy Partners: Our Refreshed Brand

Today, we are pleased to unveil our new name, website and refreshed brand. While our design and branding process has been nearly a year in the making, the timing of this launch feels at once a timely acknowledgment of the important and necessary shifts underway in the field of philanthropy and a bit incongruous with the current unprecedented and intersecting crises and opportunities we are facing. But navigating skillfully through complexity is something we've been doing for 20 years.
Our road to a refreshed brand and new website was grounded in two core goals: (1) be clearer and more explicit about who we are and why we do our work (2) bring to life our work in fresh ways to expand our reach in creating the deep and lasting positive changes that our world needs.
So what's new?
Hirsch Philanthropy Partners – today we officially bid farewell to Hirsch & Associates Philanthropic Advisors and embrace Hirsch Philanthropy Partners. Our new name crystallizes what has always been central to our work as the key ingredient to effective philanthropy: partnership. More than advisors, our role as partners to philanthropists, community organizations and leaders catalyzes collaboration and resources to tackle some of the toughest challenges facing us today – from overcoming structural inequalities to providing for life's most essential needs. We're proud that our new name uplifts the importance of partnership in philanthropy.
www.hirschphilanthropy.com – our brand-new responsively-designed website was built with easy navigation, rich visuals, and engaging content in mind. Some of the defining features of our new website include:
Impact Stories: narratives that bring to life the impact we catalyze by uniting philanthropic resources with the leaders and organizations that are driving change in our communities.
Our Services: clear descriptions of the ways we work and collaborate with philanthropists who aspire to be agents of change.
Our Team: new biographies for you to get to know our stellar team – our individual roles, journeys, motivations, and the things we do for fun.
Mission and Values – refined statements that focus the work we've been doing over the past twenty years, including our "Four C" values that guide our everyday actions and decisions.
Logo and Visual Identity – our name change comes with a new logo design and color palette. The green mark in our logo tells a story – of course, the H shape stands for Hirsch; the curved flairs recall the iconic Golden Gate and Bay Bridges, representing our roots in the Bay Area; the horizontal bar in the mark symbolizes collaboration and partnership; and the points symbolize direction and guidance. And throughout the website you will find bold, dynamic, and sophisticated colors representing our firm's personality.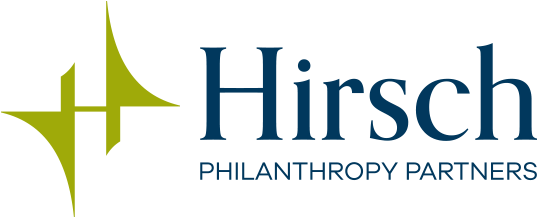 We extend our gratitude to the exceptional team at Project6 Design – the award-winning Bay Area-based design firm that was with us every step of the way and delivered visionary results. We also want to thank Hadley Dynak for her remarkable support in creating vibrant written content. And last but not least, we arrived at our website and brand destination through the expertise and leadership of our Hirsch communications team – Adrienne, JC, and Sarah.
We hope that you enjoy exploring our new website, and we would love to know what you think. Feel free to leave us a message with your thoughts and feedback. We look forward to continuing to make good on our vision to create a more equitable and uplifting world, together.
With hope and belief in a stronger future,
Susan Hirsch and the Hirsch Philanthropy Partners Team